Manukau Auto & Tyre Centre
Manukau Auto & Tyre Centre was started in 1986 by Nigel Stickland, doing mechanical repairs and car servicing, branching into tyres and mag wheels in 1988. Within a short time, we were the market leaders in wheels and tyre sales in Auckland.
As a qualified engineer by trade, Nigel Stickland soon recognised the need for specialist alloy wheel repairs and branched into that field in 1990. A full machine shop with specialist wheel repair equipment was set up in a separate workshop.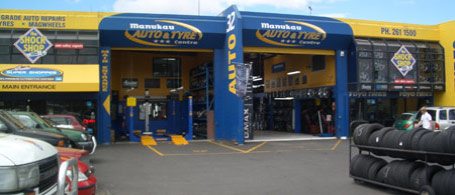 Mag Wheel Guru
Manukau Auto and Tyre Centre is home to the Mag Wheel Guru aka Nigel Stickland. The Guru started the business in 1986, it has undergone many changes to become market leaders in the automotive industry.
You may have heard the Guru's sometimes hilarious, sometimes strange ads on radio stations such as The Rock and The Sound.
The Guru recommends you check out the Wheel Repairs and Rim Repair sections of our website for some interesting info on what to do if you damage your car's wheels. He recommends American Made Cooper Tyres if you're after quality or high-performance tyres without paying inflated European tyre prices.
The Guru is one of the longest serving members of the Mag Wheel and Tyre industry putting him at a distinct advantage at helping you select the right wheels for your classic car. Check out the Photo Gallery for some styles he can do deals on for you.
There are three key divisions of the company.
There are three key divisions of the company.
Tyre Shop & Mag Wheels Sales:
Nigel Stickland (Guru)
Dan Stickland (Sales Manager)
Wain Jarvis
Machine Shop Wheel Repairs:
Andrew Tavinor (Wheel Repair Engineer)
Mechanical & Shock Shop:
Te Ariki (Tux) Gardiner (Service Manager)
Cody Te Hira (Workshop Foreman)
Administration & Accounts:
Talvinder Singh
Payment Options
There are a range of payment options available to our costumers.
We accept all major credit cards. Including; Farmers, Diners and American Express (surcharges may apply).
We can also accept payment or arrange finance using
GEM Visa
Q Card
Finance Now
We can provide quotes if you would like to arrange payment through another finance company or WINZ.
Our Future
We want to maintain our reputation as market leaders.
Our reputation is built upon our staff having in-depth product knowledge and exceptional costumer service. Much of our business is returning costumers, many of whom have been coming to us for over 10 Years.
Our staff are continually up-skilling to stay ahead of changes in all facets of the automotive industry.