WOF Auckland – Warrant of Fitness
Here at Manukau Auto and Tyre Centre we have fully qualified WOF inspectors who are also qualified vehicle mechanics and service technicians. They attend regular skill updates and liaise with The New Zealand Transport Agency on all WOF requirements and laws.Any issues with your vehicle can be repaired on site quickly and efficiently and then re inspected and a current Warrant of Fitness issued.
Our Warrant of Fitness inspection includes the following safety check procedures:
Tyre Condition – You should regularly examine your tyres for bumps,bulges,cuts,cracks,tread wear and any foreign objects which may have become embedded in your tyres.Also check the sidewalls for small slits or holes.
Structural conditional
Lights- Make sure all your light bulbs are working.
Glazing –  Windscreen chips should not be allowed to grow into cracks.If a crack for example is larger than a $2 coin or (25mm) or in the driver's line of vision;you will fail your WOF.
Windscreen washers and wipers – These should be working and the wiper blades should not be worn.
Doors – All doors should open and close safely.
Safety belts – Check that  buckles are working and that saftey belts are not faded or damaged.
Airbags
Speedometer – All speedometers need to be fully functional.
Steering and suspension – The steering and suspension should always be safe and secure.
Exhaust – Your exhaust system should not leak or be too loud or smoky.
Fuel system- There should be no leaks in your fuel system.
An up to date warrant of fitness ensures that your vehicle is safe to drive on the road.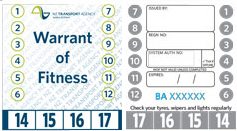 Did you know: Because WOF inspections do not cover all aspects of your vehicle maintenance it is a good idea to combine a service at inspection time. Examples of what is NOT checked with your WOF are engine, gearbox, clutch and differential: levels and conditions of lubricants, thickness and condition of brake pads, rust in non-structural areas and paint conditions. If we service your vehicle at the same time we inspect all these very important areas.